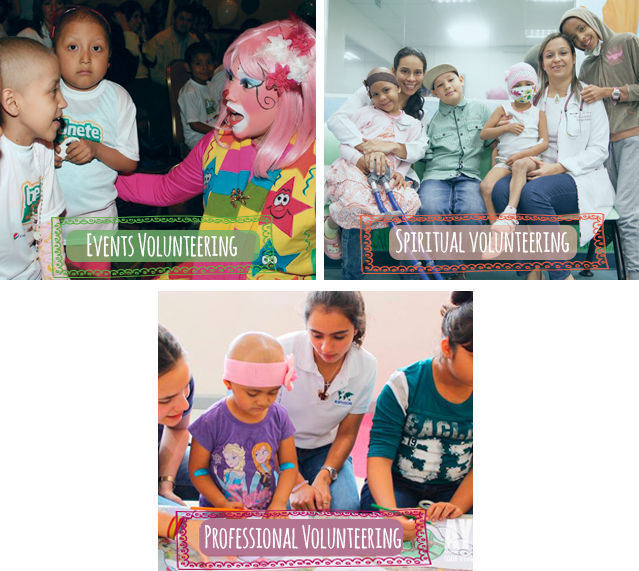 In the last few years the number of volunteering opportunities in Guatemala have grown. Our volunteers are highly committed people, with great human qualities and a lot of sensitivity. For us volunteering has become a source of love that holds and accompanies patients and their families in the struggle they face on a daily basis. 
The volunteering areas we have are:
Spiritual volunteering 
 Volunteering with games at Outpatient Area.
 Hospital Games, Child Life Volunteering. 
 Events Volunteering
 Professional Volunteering
 Specific Volunteering 
It is important to take into account that to become a volunteer you must fulfill some requirements: 
To be 18 years or older. 
 To be committed for at least 12 months.
 To be a responsible person.
 To assist to an induction talk (It´s mandatory).
 Respond to an Entry Evaluation (Psychology). 
 Complete an Entry Form.
 Sign a commitment letter.
Acquire a vest that identifies the volunteer.
 Receive training from the specific area. 
Provide 1 recent photograph for the emission of the ID (digital or physical format).
Coordinator: Sara Altalef 
If you wish to expand this information you can write to:

  sara.altalef@ayuvi.org.gt

  or communicate to: +(502) 2328-9600 Ext. 225