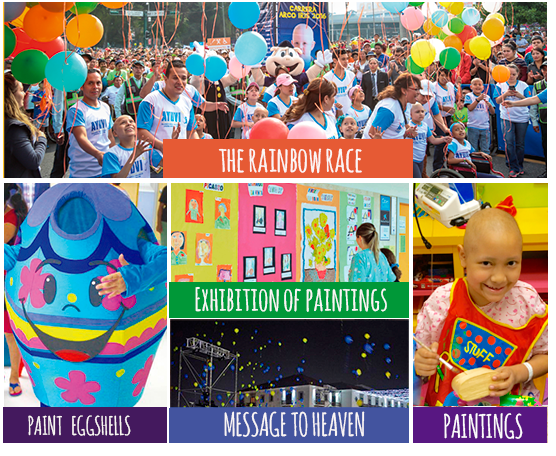 In AYUVI we have friends who join us throughout the year organizing unique, innovative, inclusive and sensitizing events. These events permit us to inform others that pediatric cancer can be cured if timely diagnosed and by receiving the adequate treatment. 
The sum of these activities has as a main purpose to raise funds which allow the continuity, growth, maintenance, and operation of the hospital. Thanks to the wonderful work of the organizers, we currently hold sport, family, and social events. We have an event for everyone who wants to join the children's fight against cancer.  
Active people filled with love and dynamism form part of this wonder group who organize events for our little brave ones. Amongst them: The Rainbow Race, The Exhibition-Sale of paintings made by our children, the Gourmet Christmas Festival, and Painting Smiles in Eggshells, to name a few. 
Messages to Heaven 
The main activity consists of a 30 minute walk in which participants hold their illuminated balloons, having as the event´s closure the releasing of the balloons which carry messages to heaven. While the sky illuminates, a musical group plays a repertoire highlighting the emotional moment. 
The intentions behind releasing the balloons are:
To thank for those who are free from the disease. 

To honor and remember those who bravely past away. 

You can join us to help organize our events or you can also approach us if you have an idea on how to fundraise to benefit our pediatric cancer patients. 

  kenia.hernandez@ayuvi.org.gt 

  Or you can communicate to: +(502) 2317-7800 Ext. 125 / Ext. 140